Creator3DR Build Log
Introduction
Welcome to the Creator3DR build log!
I've always loved building machines and electronics, writing code...then watching them come to life by putting all the pieces together!
I've build 4 different FDM printers over the course of the past 6 or so years - each one progressively getting better and better with higher resolution and faster print times. I've been looking at resin printers for some time now and came across the Morpheus Delta printer last year so I decided to back the project on KickStarter.
Needless to say, they've come up with tons of excuses as to why it hasn't been delivered and their communication has been the worst I've ever seen and as of the writing of this blog, it doesn't appear as tho the machine will ever come to be.
Part of what drew me to the Delta printer was the asthetics. I wanted something that looked as good as it performed and thus the inspiration for this printer.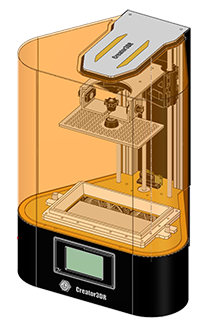 Creator3DR Specifications
Build Volume: 160x90x200mm (6.3x3.5x7.9")
Light Source: 40 - 3W 405nm array (120W total)
Resolution: XY=147microns, Z=50microns
Mainboard: Raspberry PI 3 model B
Developing time per layer: <2 seconds
Software: NanoDLP
Add-ons: External 3.2 Nextion touch screen
Future Add-ons: Camera to create time-lapse videos

Notes: The resolution isn't the best available as I was initially trying to keep costs affordable and this can be easily changed by changing the screen. Compared to FDM printers however, this is amazing!